Let's face it, ladies, as much as we love gift giving, Christmas shopping for family and friends can sometimes be overwhelming and stressful. So whether you're looking for the perfect gift for the reader in your life, or if you're in need of wish list hints to drop with your family, we have you covered!
1. E-READER
I still remember the day, (10 years ago), when a friend of mine first introduced me to her Kindle. Let's just say that it was love at first sight. When I saw that she had over eighty books stored in her library, my mouth fell open. How was this even possible? I was stunned to learn that you could take all of your books wherever you went. And when I discovered that ebooks are less expensive than paperbacks AND they instantly appear on your device, I knew I had to have one of these glorious creations! So the minute I arrived home, I found one online and ordered it for myself. For three long days, I stalked my mailbox until it finally arrived. Needless to say, that was the beginning of a very beautiful friendship.
So whether you're looking to upgrade your device or surprise someone this Christmas, there are tons of options to choose from. The most recommended E-reader on the market is the newest edition of the Kindle Paperwhite. With one click of a finger, the screen's backlight can be adjusted to your reading preference of indoors or outdoors. Coming in at just under $100, this device is thinner, lighter, and completely waterproof!
>> Buy it on Amazon.
2. GIFT CARDS
Whether it's Amazon, Apple, or Google Play, you can never go wrong with a gift card! Every time I receive one, I'm as excited as a kid at Christmas, pun intended. Sometimes I even hug those pieces of plastic in my arms and think about all of the wonderful books I'm going buy. No lie. So when in doubt, gift card them! Trust me, they will love you for it!
3. E-READER COVER
Do you have a favorite quote? What about an all-time favorite picture? With just a few clicks, you can add your own personal flair to any e-reader by creating a one-of-a-kind protective cover! Caseable has a large variety of cases to fit most e-readers on the market. And for a limited time, they're offering a 20% discount with the code XMAS20, so shop now!
>> Get it here.
4. COZY BLANKET
There is simply nothing like curling up under an ultra-soft blanket while reading a new book! I'm a year-round blanket girl, myself, no matter the temperature outside. If I'm reading or writing, you'll always find me wrapped up in a snuggly blanket. My personal favorite is my microfleece blanket from LuvBooks! Give the gift of snuggle this Christmas!
>> Available at LuvBooks.com.
5. NOISE CANCELLING HEADPHONES
How did I ever survive without noise cancelling headphones in my life? Don't get me wrong, I love and adore my children, but sometimes I desperately need silence, especially when I just want to submerse myself into a new book. With a push of a button, the world around me simply melts away. They're also a lifesaver when traveling. These Bose headphones are hands-down one of the best investments I've ever made! Now available in Pink, Silver, or Black.
>> Buy a pair on Amazon.
6. AUDIBLE SUBSCIPTION
With everyone's busy schedules, it's no wonder that audiobooks have become the hot new thing in the book world. As wonderful as it is to be able to sit down with a book in hand, sometimes we just don't have the time. For that reason, many people are opting to listen to a good audiobook over their favorite playlist while exercising or commuting.
And guess what? Right now, you can enjoy three months of Audible for only $6.95 a month! Regular price is $14.95, so hurry before the offer ends December 31st, 2019! Your subscription includes one audiobook and two Audible Originals each month. If you don't like your book, you can swap it anytime for free. Better yet, if you find that Audible is not for you, you can cancel your subscription at any time and your audio books will remain forever yours! Give Audible a try this Christmas season!
>> Available at Audible.com.
7. SOY CANDLES
We're all looking for ways to alleviate stress in our lives, and there is nothing like the soothing smell of a candle to help calm the soul. Personally, I can spend hours in a department store smelling candle after candle. Once you find the perfect scent, it can make all the stress around you melt away, allowing you to lose yourself in a good book!
When you're shopping, remember that soy candles burn cleaner, making them both healthier to breathe and safer for the interior of your home. And at such affordable prices, it's no wonder they are one of the most popular gifts to give during the Christmas season! I highly recommend these literary candles by FrostBeard Studio! Whether you're looking for the delicate smell of rain or the comforting mocha aromas of a café, they have you covered! They've even managed to recreate the delicious smell of old leather and books! How awesome is that?
>> Get one here.
8. BOOK BOX SUBSCRIPTION
Move over bills and junk mail! It's time to put some excitement and LUV in your box! Heh. Luv. Get it? *ahem* Anyway, the LuvBooks Box subscription is a gift that gives all year long! Well, four times a year to be exact, but that's still a lot of love. Every three months you'll receive a new LuvBooks Box filled with special print editions, exclusive merchandise, and themed goodies! Subscriptions sell out fast, so order now! We guarantee you'll love it!
>> Subscribe now.
9. BOOK LIGHT
Even though I love my e-reader, there is nothing like the feel of a good book in my hands. But reading at night can be disruptive to roommates and partners who prefer a dark room. This flexible neck light by Vekkia is not only rechargeable, it also allows for three levels of brightness. Priced under $15, this affordable book light will make the perfect gift for any bibliophile!
>> Buy it today.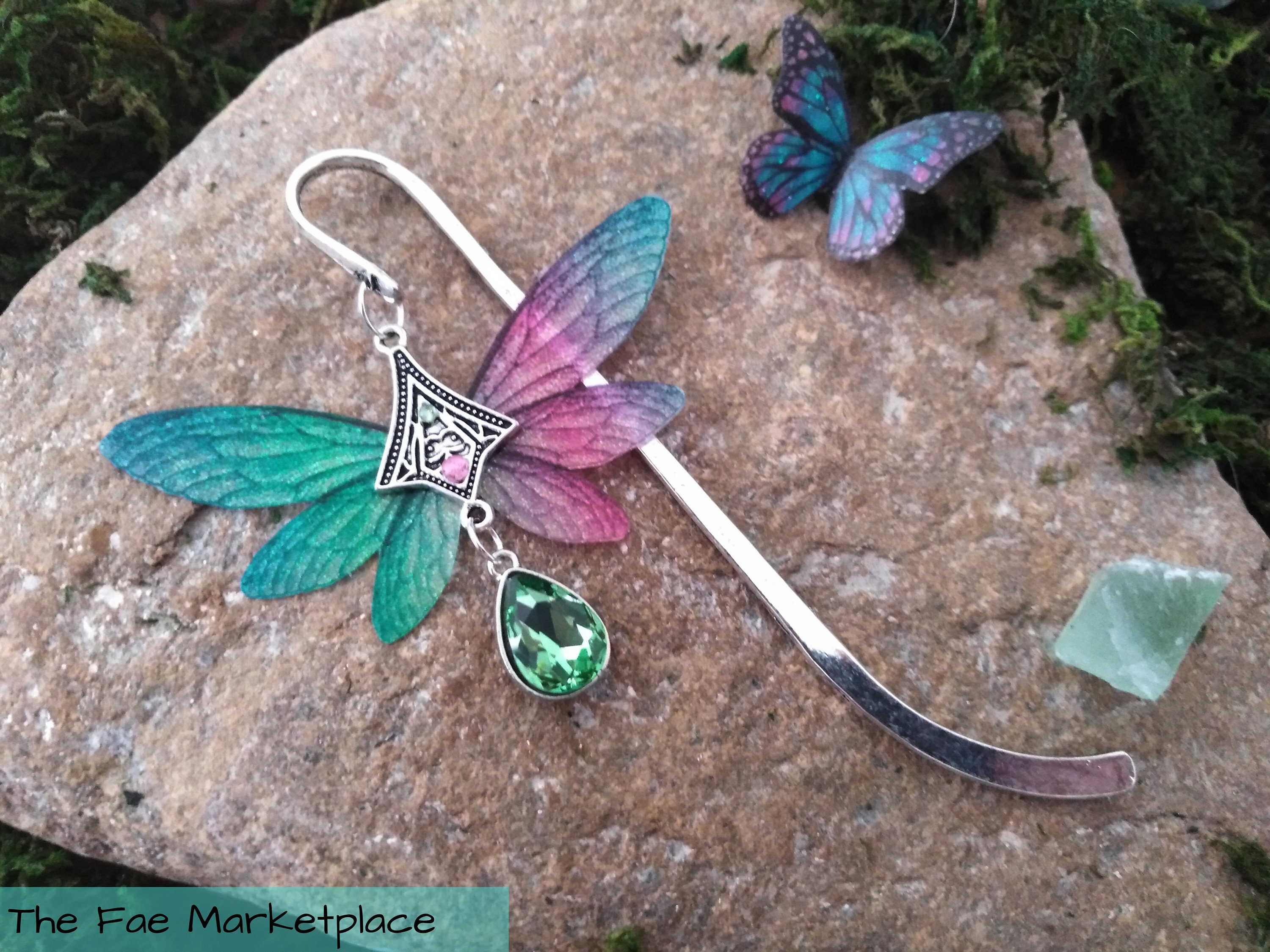 10. BEAUTIFUL BOOKMARK
Never crease a corner of a book page again! This gorgeous fairy bookmark by The Fae Marketplace on Etsy will not only keep your page safe, as well as brighten your day. Coming in under $10, it makes the perfect stocking stuffer for the reader in your life!
>> Purchase here.
11. NOVEL TEAS
Who doesn't love sipping on something warm while they read? Add a special touch this year by giving Novel Teas! This Victorian themed package contains 25 teabags individually tagged with literary quotes from the world over, made with the finest English Breakfast tea!
>> Order it here.
12. COFFEE MUG
Whether you're indulging in your favorite hot brew or sipping on a delicious hot toddy (I highly recommend the toddy), everyone loves a good cup. This Book Lover Mug from the LuvBooks store will become a personal favorite for any reader!
https://bit.ly/36obT9u
Happy holiday shopping from LUV BOOKS!
About the Contributor
Mia Michelle fell in love with the world of books the very first time she stepped inside of her small hometown library. Growing up, she loved to spend time losing herself in the world of make believe by creating her own imaginative stories. The gift of a leather journal for her eighth birthday inspired her dream of one day becoming a writer. Though she kept most of her writing private over the years, a childhood best friend read the first draft of Rose of Thorne and encouraged her to take the leap of faith to bring her dream to life.